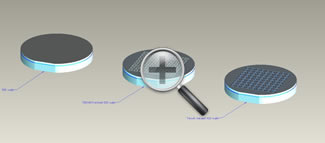 IceMOS Technology presents its dielectric isolation technology – delivering high voltage isolation between components on the same chip. Isolation is achieved using thick film SOI technology combined with state of the art high aspect ratio deep trench etching and oxide/poly refill. This technology is available on all wafer sizes from 100mm to 150mm and silicon device layers from 1.5um to 100um.
Our Trench SOI wafers are used in the following applications:
MEMS devices
Solid State Relay photovoltaic generators
Photovoltaic cells and Optoelectronic devices/ICs
High Voltage analog ICs for telecommunications
High performance bipolar circuits
Smart Power ICs
Integrated Sensors
Our process engineers will work closely with your design group to realize the full potential for your processes.