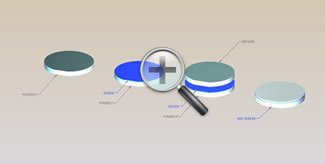 I ceMOS Technology has developed and is offering a Thin-SOI wafer range with device layers < 1µm. Building on the 20+ years of SOI manufacturing experience, IceMOS is offering the same high-quality product as our existing Thick-SOI wafers for RF Applications.
With the wide range of specifications for both silicon wafers and the thermally grown Buried Oxide Layer, the IceMOS Thin-SOI wafer range covers applications such as Silicon Photonics to SAW filters.
Our customised Thin-SOI solutions are suitable for the following fields:
• RF Filters
• Optoelectronics
• Image Sensing
• Wireless Connectivity
• Flexible-Hybrid Electronics
• RF MEMS
By making continuous improvements to our processes in a Lean Six Sigma environment, IceMOS Technology offer world class product quality, competitive cost structure plus rapid turnaround makes IceMOS Technology your ideal SOI partner.
IceMOS offers Prime Grade SOI Wafers which meet the highest quality standards in the silicon wafers market. We also hold an inventory of Test Grade wafers which we offer at lower price compared to the prime grade wafers. The Test Grade samples do not meet prime grade standards for surface condition and may have scratching, voiding greater than allowed tolerances for prime grade or other surface defects. For more detail, please contact our sales team.